This year's releases stretched worldwide, but ultimately came back to roost in good old America.
As 2011 draws to an end, and the supposed end of the world draws near, let's take a moment to look back at some of the top Blu-Ray Steelbooks that were released this year.
Tron - Legacy: Sweden (Released with Tron (1980)
A beautiful and simple release,
T:L
re-introduced us to lightcycles and the smokin' hot Olivia Wilde. I was totally taken with the story, which finds Jeff Bridges trying to get out of The Grid, and his young son played by Garrett Hedlund trying to help. This Swedish release looks as good as the American Best Buy exclusive Identity Disc set, with inside artwork and an excellent cover.
Sucker Punch Extended Edition ComicCon Exclusive
Clearly, the best release of the year, this steelbook rolled the dice and came up big, with embossed colored images on the cover, and impressive interior artwork. Much like the Target release of Fast Five, Sucker Punch also came with a soundtrack as part of the four-disc set. This will set the standard by which all future steelbooks are judged, and with good reason. It's too bad that the film didn't come close to matching its Blu-Ray release.
The Lion King Best Buy Exclusive

With the release of this on Blu-Ray, Best Buy stepped up and hit a home run with their steelbook design. Basically, if you placed a $7.50 deposit with them and promised to pay the remainder at release time, you were provided this special case in addition to whatever edition you had planned on getting. This version is known technically as a Viva Metal Pack, due to its plastic spine; however, I've done some research into this, and even though the interior is different than a classic steelbook, I don't believe the title will outlast Steelbook's powerful name. The interior of this contains a colored image as well.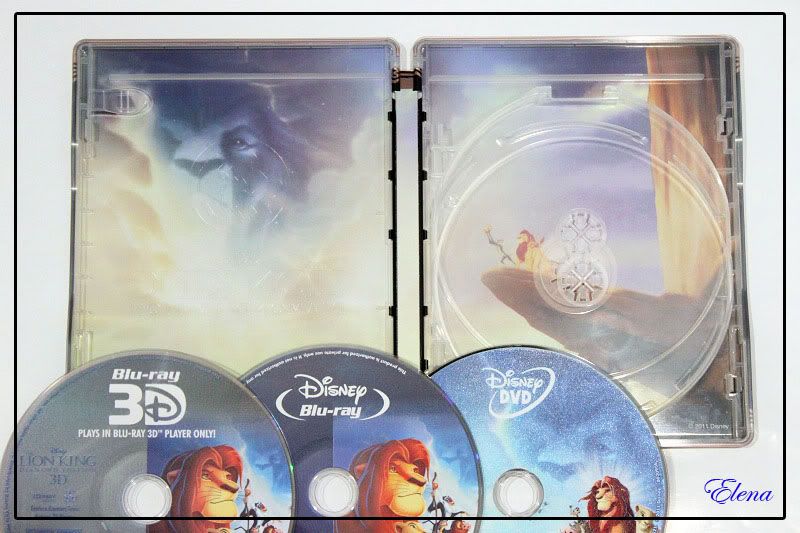 Captain America HMV (UK) Exclusive
If 2011 was known as the year of the comic book hero, then Captain America had to be at the top of most people's lists. The transformation of WWII Steve Rogers from scrawny scrapper to super soldier, Captain America has set the stage for the highly-anticipated Avengers release in May. Unfortunately, the best release America got was the extremely disappointing Best Buy exclusive slipcover with comic book Issue #1 on the back slip. WTF? Don't American audiences deserve better?? Fortunately, HMV (UK) stepped up with one of the most compelling and appropriate covers.
This epic, embossed cover of Cap's worn shield is clearly one of the best efforts of the year. The wording is embossed but not the shield itself, which is the only issue I have. As you can see, the inside artwork is beautiful and shows off the movie's main characters very well. It's a real shame that American audiences had to rely on foreign countries to offer a better release. Hollywood should be ashamed of itself.
Thor HMV (UK) Exclusive
Again, another terrific Marvel release that required a foreign nation to supply us with a better Blu-Ray. Thor's name is embossed and Mjölnir looks incredible. This film introduced me to the superhero genre, with its witty dialogue, attention to detail, and excellent casting and music. Along with
Captain America,
it's going to rocket into my top 20 films of all time. This release is just icing on the cake.
Scarface (Worldwide)
The rise of Tony Montana, and the blood bath ending of
Scarface
make for one of the most classic films in American cinema. The steelbook release of
Scarface
should be as memorable, with a smooth but shiny cover, as well as nice interior artwork. This ain't
The Godfather
but it's pretty close...
Cars 2 (Best Buy Exclusive)
Ok, granted
Cars 2
was no cinematic masterpiece; alright, it was almost as awful as
Sucker Punch
, but the Blu-Ray release saw a similar deal to
The Lion King
with customers getting a free Viva Metal Pack with the pre-order or any version of the film. As you can see from these images, including the interior, Disney did a good job with the release:
Green Lantern (Best Buy Exclusive)
Easily the biggest flop of the year ($200 million to make, $220 in worldwide), Green Lantern has raised serious doubts about DC's viability past Batman. Whether they can get this ship righted to compete with Marvel is anyone's guess. But for now, we can all enjoy a beauty of a release from Best Buy, complete with a terrific back cover of GL's mantra.
Cowboys and Aliens (Target Exclusive)
While this film did not resonate with audiences, the American steelbook release from Target has been wildly successful, as current prices on eBay for unopened versions will reflect. The cover is smooth but very detailed. It's hard to find pictures of the inside artwork, and based on the rocketing prices for this one, I have no intention of opening mine. Indications are that it is colored and features images of the cast members.
Fast Five Target and Best Buy Steelbook
Fast Five
was a terrific theatrical release, with the entire gang from the previous films on hand. Add Dwayne "The Rock" Johnson and a more mature caper-than-fastcars storyline to the mix, and you have a franchise which is hitting on all strides. Although there were no less than four different releases into the home market, each one was well done with two particular releases worth mentioning. Target's version offers a tri-fold case with the film's soundtrack, while the Best Buy release features a steelbook. Both have interior artwork, the same special features, and an exceptional transfer of the film. I hope this offering is more of the trend than the exception.